This proposal is INCOMPATIBLE and UNALIGNED with our existing area land-use of "Country Residential" and is a fundamentally flawed land development proposal.
Your voice matters and the Bearspaw community members are SAYING NO to profit driven, large corporate land developers, such as Highfield, impacting our communities.
Voice your concerns and protect our communities. This is your only opportunity and YOU can make a difference!
STAND AND SAY NO TO THIS PROPOSAL!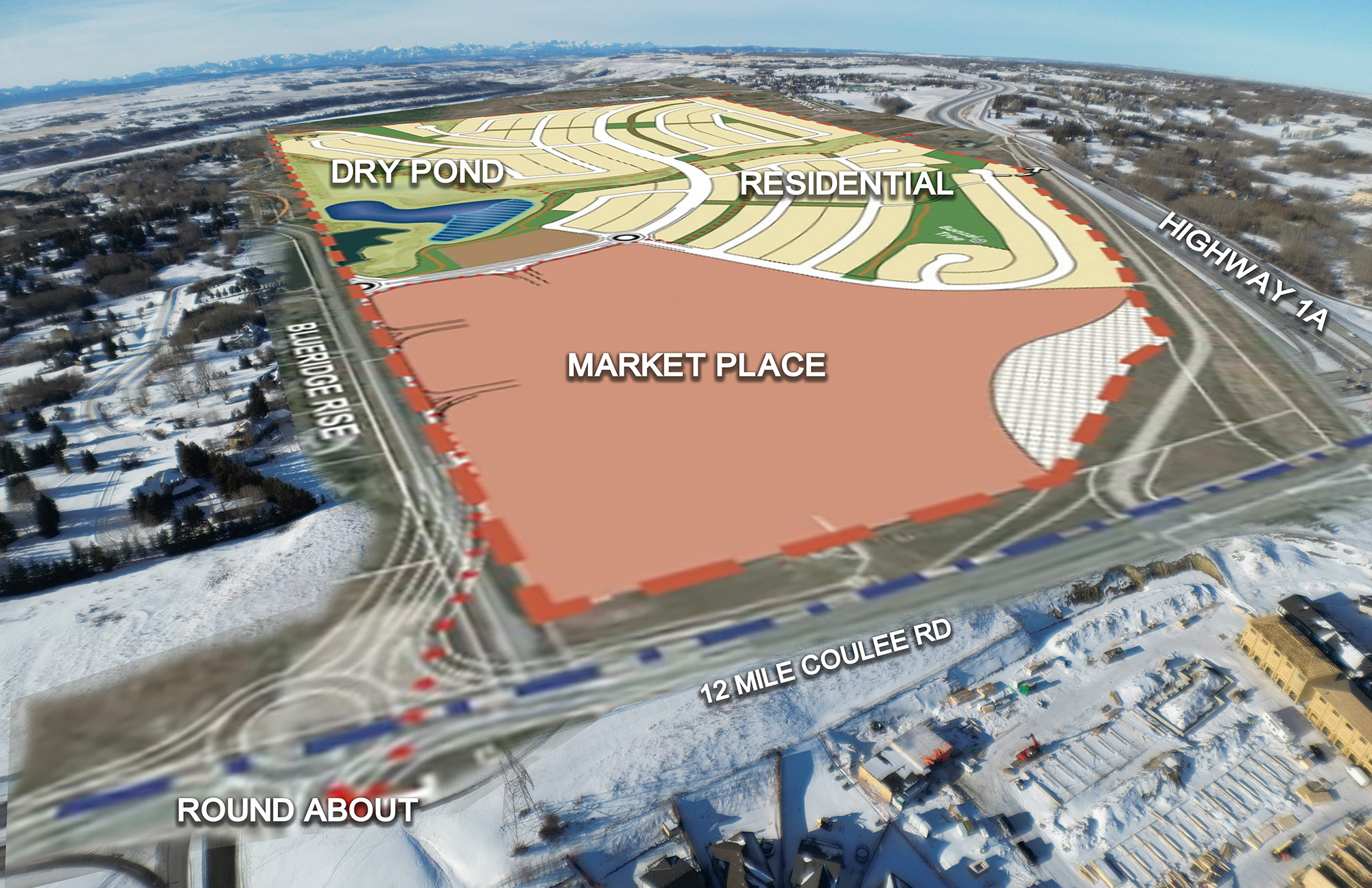 What Is Being Proposed?
Here is the latest update. A recent land development "Land-Use Redesignation" proposal has been put forth to Rocky View County for review on October 7, 2022, by B&A Studios on behalf of Highfield Land Development.  A letter-of-notice detailing the proposal was then sent out by RVC to select homes and communities and was dated December 1, 2022. This land development project is called Ascension. 
Here is what is being proposed:
Land-Use Redesignation from Country-Residential to Multi-Use Residential (i.e., high-density) & Commercial Marketplace

275-acre land development

1000+ high-density residential lots or dwelling units

51-acre marketplace (130% larger than Market Mall) 

250x more population density than Rocky View County average

4-lane highway with 3 large traffic circles 

Expansion of existing local roads – Blueridge Rise, Bearspaw Road

Sewage and wastewater to be pumped to Watermark treatment facility,

Cost of fresh water supply to be borne by area residents with taxes,

Existing schools at capacity and no proposal for expansion or funding

Multi-year, heavy equipment construction
What is being proposed?
A land use re-designation of the subject land, a 275 acre greenfield asset adjacent to the City of Calgary, called Ascension.  This proposal is a "Land-use Amendment" that is a re-designation of the land from "Agricultural, General District – Country Residential District (R-CRD)" to "Residential Urban (R-URB)", "Residential Urban Small Lot (R-SML; high-density residential)", "Residential Mid-density (R-MID)", "Residential Multi-residential Urban (R-MRU; condos)", including "Direct Control (DC), Commercial Mix (C-MIX; large retail and commercial)" draft bylaw and "Road Widening" to a 4-lane highway with 3x traffic circles to accommodate high-density residential lots, increased traffic, as well as large commercial uses.
What does "Direct Control DISTRICT" and "permitted use" mean for the commercial marketplace?
Direct Control district is to provide for development with unique characteristics, unusual site conditions or innovative design that require specific regulations unavailable in other Districts design; details may vary without requiring an amendment. This broader provision, Direct Control, is intended to limit future non-compliance issues if there are future amendments to the bylaw. Permitted uses as defined by RVC is "All permitted uses, which otherwise satisfy the requirements and regulations of the bylaw, do not require a Development Permit." Permitted uses and commercial provisions for the Ascension Proposal under direct control include:
Maximum commercial building height is 24.0 m (~80 feet) or 6-8 stories!!! 
Hotels/Motels (up to 80 feet = 6-8 stories)
Retail (large box stores like Walmart)
Grocery Stores (Supermarket; 50,000 sqft)
Entertainment Uses (movie theatres, bowling alleys)
Bars (late night activities)
Restaurants
Farmers Markets
Private Recreations (gymnasiums, banquet halls)
Gas stations
Car Washes
 Billboards & Signs (includes digital up to 40 ft high)
 Special Function Businesses
 Other
Maximum commercial building height is 24.0 m (~80 feet) or 6-8 stories!!! 
Where is the location?
The property proposal is located directly SW of the interchange of 12 Mile Coulee Road and Crowchild (HYW 1A) in Rocky View County.  Located North of Blueridge Rise Road and West of 12 Mile Coulee Road.
When was the Conceptual Scheme first proposed and what is the current status of the proposal?
In September of 2017, Highfield Land Development proposed an area Conceptual Scheme called Ascension, which was reviewed by RVC council, with RVC council as well as RVC's Planning & Development Department receiving over 450 opposition letters, and videos.  Even with all the letters and videos in opposition  and for some unknown reason RVC council signed off on the Conceptual Scheme in June of 2021, which has now allowed the developer to advance the Conceptual Scheme towards re-designation and re-zoning. This proposal is a dramatic divergence from the Bearspaw Area Structure Plan and as such will set a new precedent on land development within Bearspaw and RVC. 
What does the Redesignation Scheme look like?
This scheme divided 275 acres into 4 residential small lot land use districts and the dark green is municipal reserve. The pink area is the marketplace district and the light green is undevelopable area.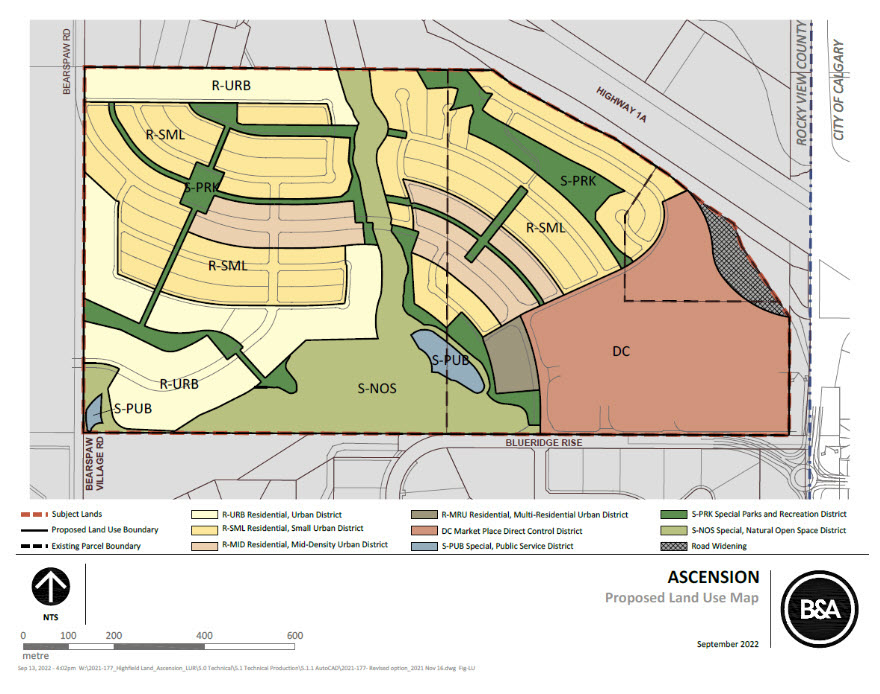 We are saying no to this!