The Shopping Centre, Marketplace, is over 51 acres in size and located on steeply sloping land at the east corner. This site is not selected as commercial by the RV County Plan.
A large grocery store/ supermarket will be the anchor tenant. Other uses in the Marketplace will be retail stores, entertainment venues, offices, medical clinics and restaurants, and hotels.
Senior's Housing Complex may be located on the northern portion of the commercial site.
There are numerous shopping centres close by within 10 minutes driving distance.
The size of the commercial site will require the higher residential density to support the commercial uses and the commercial use will drive the need for higher residential density. Self-fulfilling, each use needs the other.
This commercial centre trade area will draw from the residents of Calgary and other country residents well beyond the immediate area.
Why is Ascension allowed such a large commercial parcel?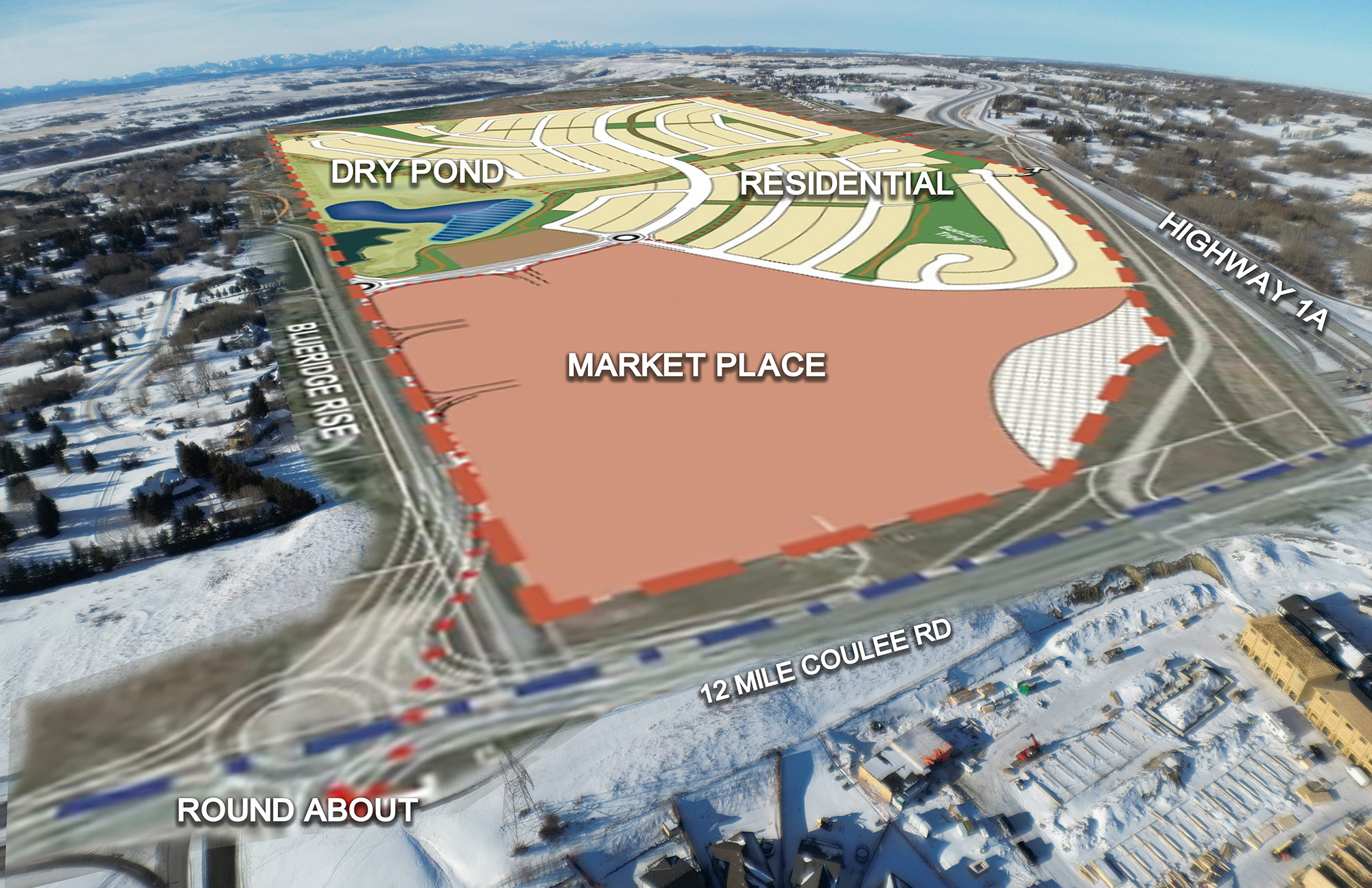 As there is a strong supply of retail space and a growing vacancy rate for retail in Calgary and area, we recommend completely removing the marketplace from the Ascension Conceptual Scheme Proposal as there is no demand, nor need, and it is significantly out-of-place within our community.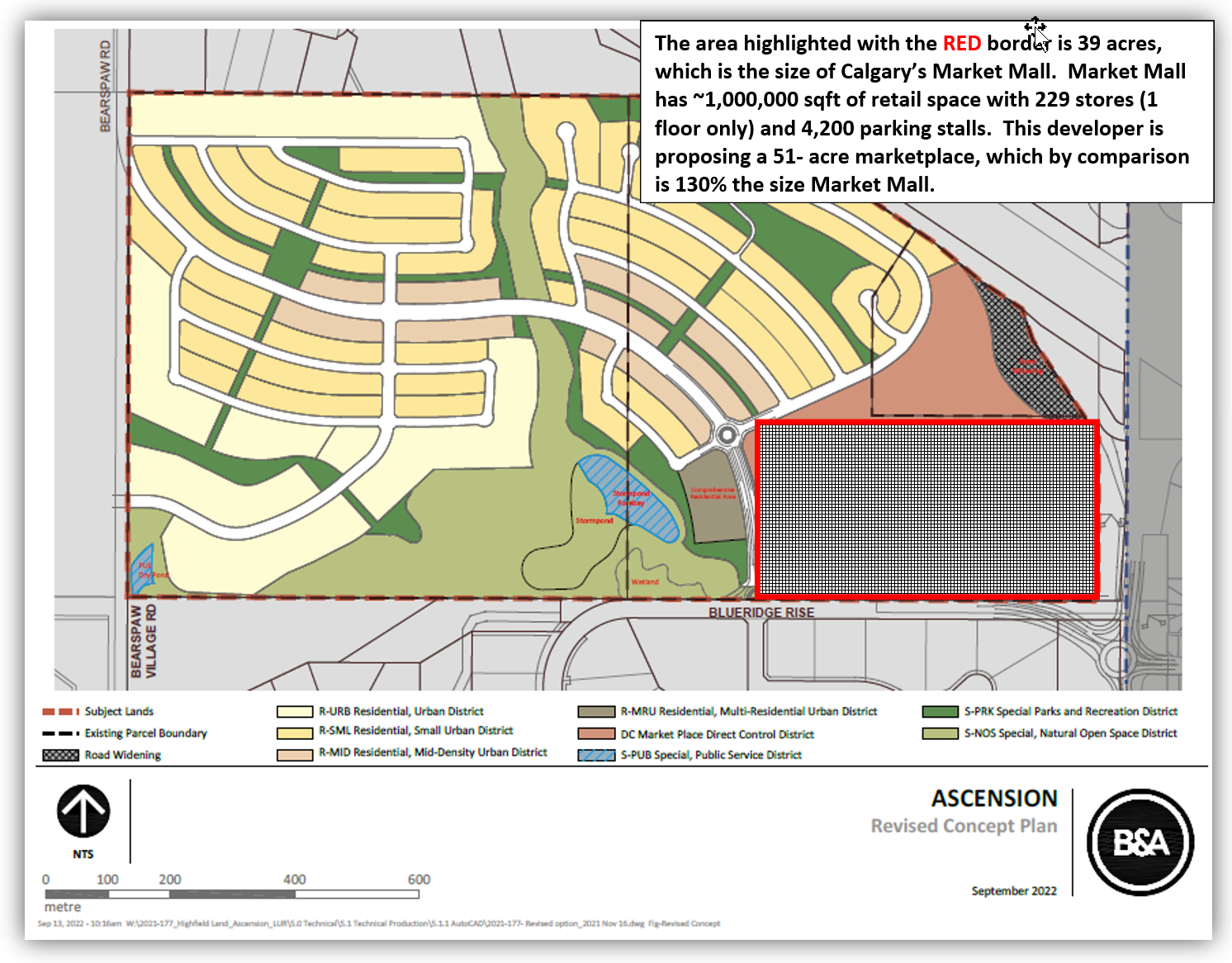 The proposed land-use changes enable large-scale retail and commercial development of a 51 acre marketplace (note: In 2017 this developer proposed a 47 acre marketplace) which is 130% of the size of Market Mall's parcel area, which is 39 acres.

It would include a broad range of businesses including 'big box' retailers, hotels, and grocery stores as well as pubs, bars, lounges, nightclubs, theatres and banquet facilities. 

As a result, expect activities nearly 24 hours a day and seven days a week from  both consumers and traffic supporting these businesses such as deliveries, maintenance and late night snow removal.  The mall will also generate significant noise from mechanical units etc. 

The infrastructure existing and also required for this large commercial marketplace would be insufficient to service such a large commercial area, furthermore, there is no demand for such a marketplace.  

The proposed marketplace will create adverse impacts on existing residential communities

(the developer suggests condominiums nearest the marketplace, which suggests lower valuation properties right adjacent to the marketplace; therefore, this developer has little to no regard for existing landowners along Blueridge Rise Road and their property value)

and the proposed development is not in close proximity to the provincial transportation networks as proposed, requiring significant roadway upgrades and disruption of existing local community roadways.     

The commercial and retail is primarily serving Calgary and not Rocky View County. 
This proposal DOES NOT respect nor consider "designing for Bearspaw" nor for considering the existing Country-Residential homes along Blueridge Rise Road and significantly impacts property values, safety, and completely degrades the proposed interface conditions and current road use.  Yet, for new homes for the Ascension area (proposal), the developer has decidedly taken into consideration the interface conditions of the new homes-to-the-commercial area.  The perimeter of the site needs dramatic adjustments and revisions.     
FACTS
RVC, County Plan – Amended June 23, 2022 states that the majority of new commercial and industrial businesses are to be located in the business areas identified on Map 1 above, which Ascension area is NOT one!  As well RVC states that new commercial shall "minimize the amount of traffic being drawn into rural areas."

This Plan does not contemplate developing other regional business centers until the identified centers are approaching

full build-out. (RVC, County Plan – Amended June 23, 2022, pg. 53.)  

The pandemic has expedited online shopping and the trend is growing with eCommerce and mCommerce (mobile phone online purchasing) penetration growing exponentially with reduced foot traffic to physical retail outlets.  Why build a marketplace when demand is decreasing for large footprint retail outlets let alone the fact that a marketplace such as proposed will have a significant carbon footprint.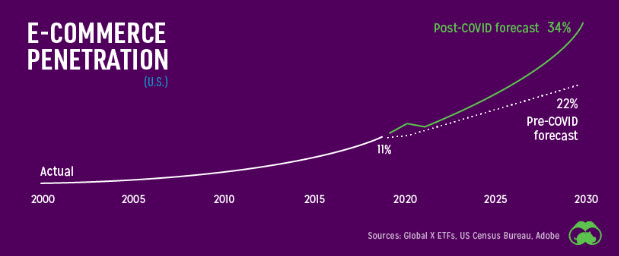 According to the CBRE, commercial retail vacancy rates have continued to rise in Calgary over the last 10 years to a near high of 6-7% in 2022 from 2% in 2012.  One of the reasons the vacancy rate is not higher is due to the lower housing costs in Calgary compared to other major cities like Toronto or Vancouver, and the net influx of people moving to Calgary.
Distances and Driving Times to Nearest Shopping Centres from Ascension 
Do we really need a 51-acre marketplace when we have so many existing shopping options within 10 minutes drive of our communities?
Aerial photo from 2017 of Calgary's Market Mall showing 39-acre parcel.
Ascension wants to build a 51-acre marketplace.
If you are familiar with Market Mall (3625 Shaganappi Trail – located in the Varsity area of Calgary) you understand how large that marketplace is, but did you know that Ascension's proposed marketplace is 51-acres or approximately 130% of the parcel size of Market Mall (39-acres)! 

Direct Control Use is necessary when the land use act or area structure plan does not have provisions pertaining to the designated area, which in this case is the Marketplace.  This should give rise for concern as this would allow the developer much broader control on the development without a high need for following area structure plans and architectural controls.